Specializing in Thoroughbred Broodmare
& Foal Management for Over 25 Years

---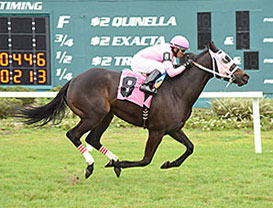 DOUBLE SECRET
SCF graduate winning
Lightning City Stakes 5F
SCF graduate winning
first start at 2, gate to wire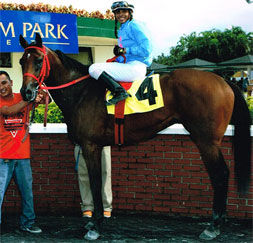 Flipshot � High Cotton o/o
Flipaway (SPW)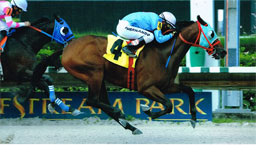 Flipshot wins first out at 2
Southern Cross Farm is a Florida-based farm specializing in the production and sale of quality Thoroughbred racehorses for public and private sales. Failing to find a boarding facility that lived up to the standards they set for the care of their own animals, Robert and Belinda Kitos, both medical professionals, founded Southern Cross Farm in Tampa. Southern Cross Farm was relocated in 1989 to forty limestone enriched acres in the northwest section of Ocala, FL.
Southern Cross Farm is dedicated to providing the highest quality care possible. Areas of expertise include pre-natal and post-natal management for young Thoroughbred horses, reproduction management for normal and aged broodmares, medical management of surgical, trauma, track, or medical lay-ups, and sales prepping for commercial auction sales.
The attention the company pays to detail provides each horse the basics to reach their full potential in their future. The medical background of the owners enables the farm to provide care with the extra edge.
More about our services
Visitors are always welcome at Southern Cross Farm and your comments and questions are very important to us. Please feel free to contact us directly and enjoy your visit to our site.


| | |
| --- | --- |
| Retsina wins first start by 12 3/4 lengths. | Retsina demolishes the field by 12 3/4 Lengths |

Winner first and second start
- 1/2 sister to DOUBLE SECRET

Imperial Secret 5 starts 3 wins
� 1 second -1 third (MSW & ALW)

Imperial Secret - Winner first two starts
1/2 sister to Double Secret

Imperial Secret runs down the competition