Services and Facilities of Southern Cross Farm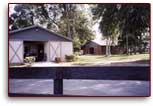 Our farm is double-fenced
& gated for safety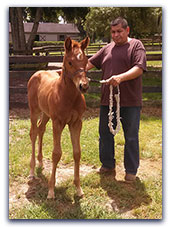 FLASH MAN – 1 week old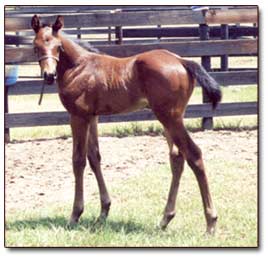 Black Type winner Max A Million at 4 days old
Dedicated to providing the highest quality care possible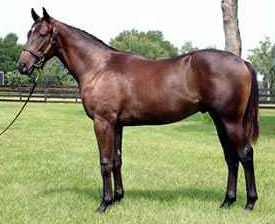 SCF Sales Prepped Yearling
A racing lay-up returning to the track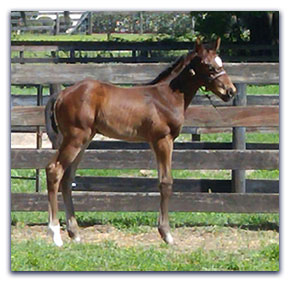 Secret Dude (2016) - 2 weeks old

Minutes from I-75 off SR 326 (Exit 328) , the farm has an outside perimeter fence for safety and is cross fenced with 12 - four-board paddocks of various sizes to meet the individual needs of the animals. There are two barns and a round pen for breaking. For horses that we choose to race, we break the yearlings we raise on the farm in the fall , teaching them the proper ground work that they will need for their future in racing and get them ready for the training track. Imperial Secret, and the others shown on the main page are examples of our breaking and training program graduates, All were foaled, raised, broken and readied on the farm and then sent to a trainer for their final preparations for racing. All won at first asking. We do not solicit for outside horses for breaking and training. We only offer this service to our clients that foal and board with us as we start training the horses once they are foaled. All foals are taught manners and learn to lead and be handled without stress. We find that it makes for a happier horse that will trust their handlers creating a less stressful breaking process so that they may reach their racing potential.



Southern Cross Farm strives to provide top quality care. Close attention is paid to all the details of broodmare, foaling, foal, and yearling management as well as sales prepping, breaking, and rehabilitation.

Our services include:
Boarding: Our large fields consist of mainly broodmares, foals and yearlings. The smaller fields are used for special lay-ups from the track as well as rehabilitation depending on the needs of the individual horse.
Foaling: The owners personally foal each and every mare to ensure the health and well-being of both the mare and the baby.
Expert Sales Prepping: Having a background in show horses, the farm is able to give the sale horse that extra competitive edge in the ring. We are able to prep for all sales except two-year-old in training sales. Please visit the Horses for Sale page to see some of our homebreds that we have prepped for sales over the years.
Medical and Surgical Lay-ups: Due to the medical background of the owners, the farm is able to provide certain intensive care for horses that otherwise would have to be sent to a veterinary clinic.
Racetrack Lay-ups: The farm has the facilities to safely let down horses in training and give them valuable turnout space so that they return to the track eager and in peak condition.
Registrations/Nominations/Identifications: We take the guesswork out of the paperwork in owning thoroughbreds. We will identify, register and make the stake nominations for our owners to ensure they do not miss a deadline.
Pedigree Research: We will help our clients with the mating selections of their mares with our mating analysis software and give them a six-generation pedigree of their selection.
Breeding Management for Problem/Aged Mares: We own aged mares and take the extra steps needed to ensure they get in-foal and stay in-foal. We realize that their management is more complex than the younger mares.
Horses for Sale: The farm breeds to sell and offers all the produce for sale both privately and at auction. We will also help our clients to sell one of theirs if they choose.
Yearling breaking: Is only offered to clients that foal and board their horses at Southern Cross Farm.
Clients are always welcome to visit and inspect their horses at anytime. We operate with an open door to communications and enjoy close relationships with our clients. Satisfied clients and well-developed produce have always been our best advertisement.
Please do not hesitate to contact us for more information on how we can be of service to you.